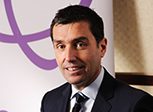 Mathew Beale
mathewbeale@comsuregroup.com
Direct Tel: +44 (0) 1534 626841
Mobile Tel: +44 (0) 7797 747490
Fax: +44 (0) 1534 626842
Background
Mathew is a Fellow of the Chartered Institute for Securities & Investment. Having started his career working within the asset management industry for ten years, Mathew has since focused on financial services regulation. Between 1995 and 2002, he worked for the body that is now known as the Jersey Financial Services Commission, where he was responsible for the day-to-day conduct of business of regulated entities and where he reached the position of Senior Compliance Manager. Since 2002, he has worked within private practice in all aspects of regulatory compliance, including:
Attending at various financial services businesses with a view to assisting them in their internal audit processes;
Developing rectification programmes for entities which had come under regulatory review;
Undertaking a number of reporting professional projects for the Jersey Financial Services Commission;
Being involved in the preparation of the anti-money laundering guidance notes in Mauritius;
Writing and delivering numerous training courses relating to the field of compliance for private and public bodies.
From 2002 until May 2005, Mathew was a senior lecturer on the International Compliance Association's (ICA) Introductory Certificate in Compliance, the International (and UK) Diploma in Compliance and the UK Diploma in Anti-Money Laundering. He is a co-author of the materials used by the ICA in their UK and International Diplomas in Compliance.
Qualifications
Fellow of the Chartered Institute for Securities & Investment
Associate of the Institute of Financial Planning
Investment Advice Certificate
Certifications
 Annual CISI Certificate of Competance Click here for Certificate